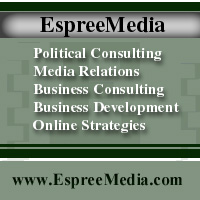 Strategic Consulting

Strategic & Message Development: EspreeMedia will help you deliver your business or individual goals and find the right pitch and tone for your message.

Image Branding: Developing the right image and managing it is important no matter what you are doing, so take the time to protect yours.

Campaign Consulting: Our company has over 20 year of political strategy and management experience on staff and we know how to win.

New Media

Website Development, Internet Advertising Strategies & Internet Advertising Creative: We have an area dedicated to internet services called EspreeNet. Web Hosting, Design, Development and Planning. Visit EspreeNet.net for your site hosting, but if you have a company hosting and developing your site, EspreeMedia is available to manage your services.

Creative Media

Media Placement: Let our experience guide you to find the perfect outlet for your marketing need. Your customers will appreciate it.

Print Advertising Development: Our design team will work to make your message stand out above the rest.

Radio & Television Program Development: We will help you develop a program that will deliver your message and entertain an audience.


---
If you want to realize your highest purpose and become the best you can be, we want to work with you.