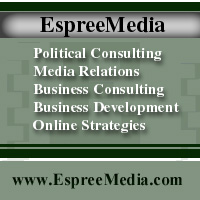 Who Are We......

EspreeMedia is a dynamic consulting, marketing and management company that helps individuals and organizations achieve significant and sustainable improvements in their performance.

Our purpose is to help you produce those special enlightened moments – those sparks of insight, wisdom, creativity and understanding that will provide the difference that will really make the difference. We'll find out what works for you – and then we'll show you how to do more of it.

Ownership for us means that we take responsibility for our actions, and are accountable for our results. We are compelled to preserve the professionalism of EspreeMedia, while maintaining and upholding the highest standards.

We seek and encourage sustainable, positive change and growth rather than short-term profits. We do what we say, when we say we will do it, and we deliver on our agreements – giving you peace of mind in an uncertain marketplace.

Our Vision

To be a global organization that is renowned for creating significant, positive and sustainable change for our clients

To be the organization of first choice for individuals, teams and organizations seeking significant performance enhancement.

To practice our profession with conscience and dignity, striving to apply our skills only with the utmost respect for the well-being of humanity and the environment.

To be widely recognized as a creative powerhouse and think tank that is able to solve challenging and complex problems using a variety of innovative and effective methods and approaches.

Our Ethics

We value our employees, stakeholders and partners and ensure that we recognize and realize their unique talents.

We value honesty, integrity and transparency with each other.

We treat our people with dignity and respect, and we do not tolerate aggression in any form.

We attract dynamic, dedicated, thoughtful, insightful, brilliant people.


---
If you want to realize your highest purpose and become the best you can be, we want to work with you.